LIKEtoBIKE 16 with "V' Brakes and 2 speed Automatix hub by SRAM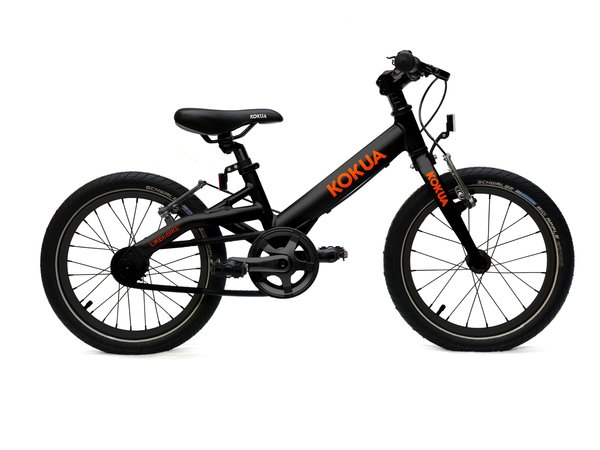 LIKEtoBIKE 16 with "V' Brakes and 2 speed Automatix hub by SRAM
Weight: 19 Pounds (8.7 Kilos)
5 Available colors:
Metallic Green, Red, Metallic white, metallic powder pink, and all black
Technical specifications:

Frame and fork: 7005 Aluminium (aircraft grade).

Rear: SRAM Fulliautomatix Hub, 2-speed automatic hub with freewheel and V-Brake. The SRAM Fulliautomatix 2-speed hub does not need a switch, it automatically switches to 2nd gear at about 8 MPH. If the pressure on the pedal is light, it switches back to the 1st gear. Gear deployment: 1st gear: 198 cm 2nd gear: 270 cm Switching time: at about 12 km / h on the Fulliautomatix to 2nd gear Stainless steel spokes, aluminum alloy rim

Front: rim and hub made of aluminum, stainless steel spokes

Tires: Schwalbe BIG APPLE, 16 "

Stem and handlebar:

"A" headset: aluminum

Grips: Children grips (Velo)

Seatpost: aluminum

Saddle: child-friendly saddle (Velo)

Brakes: front and rear V-brakes

Brake handles: adjustable, child-friendly aluminum handles

Bottom Bracket: Aluminium, axle 102 mm, Chainring 32 T with chainguard

Bottom Bracket: Cartridge

Standard accessories: Chain Runner, kickstand, bell, front and rear reflector

Optional Accessories: SKS fenders, Frog Strobelights

Dimensions: suitable for children from about 4 years with an Inside leg length of about 15.5" to 21.5" (40-55 cm)

Weight: of bike: 19 Pounds (8.7 kg)